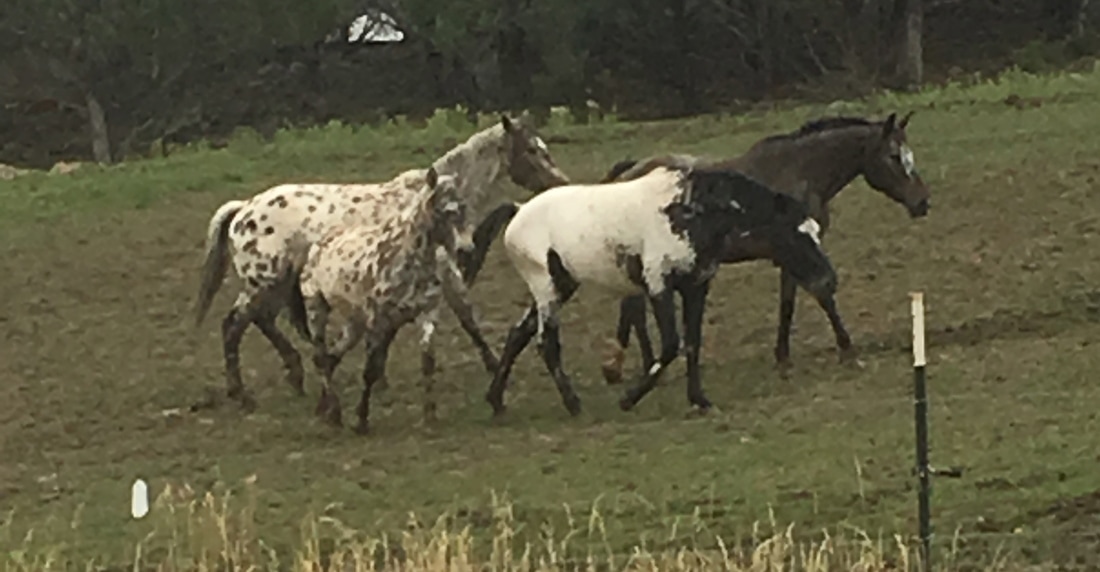 DARE to be DIFFERENT !!
Appaloosa - the horse that loves to love and be loved
Loyal, gentle and smart
History has it that after hunting and war parties, the children would care for the horses
Heart felt thanks for the ranches/ families that protect, keep and share the original Foundation Appaloosa




---
Spring Time!… First filly was foaled on May 12, 2017!!
​More foals are due - some will be available - expecting great spots and colors!
Also 2 stallions are standing at stud ~
Wanabe Picasso and DREA Okanagan Bluefire
stud fee is $500
plus mare care
Below
DREA Comanche Rainy had a beautiful filly
foaled May 12, 2017
Sire is DREA Okanagan Bluefire
Mare and Filly are available!
below--Wanabe Lois had a nice colt - foaled June 4, 2017
Sire is DREA Okanagan Bluefire -
Lois is registered as Half Arabian, Arab Appaloosa cross-
at 15 years old, Lois is a super mom with her first foal and Bluefire does produce color!
photo was taken when this colt was just 5 hours old...

Colt out of DREA Giannis Celilo and Wanabe Picasso -
​ Available!

The gang as yearlings...

DREA Sugareagl Sundy - 2013 filly - buckskin leopard
DREA Okanagan Blufire - 2013 colt - black/white blanket
DREA Comanches Rainy - 2013 filly - brown leopard
DREA Giannis Celilo - 2013 filly - black/white blanket

Decker's Red Eagle Appaloosas have been breeding some of the finest Appaloosas bred to Appaloosas for years -
here is a link to their website
http://d-rea.com
Wanabe Ranch pleased to introduce 2 gaited girls - a Walkaloosa filly who is a buckskin leopard spot.
- the yearling filly is available -
SPF Whisper Blue - registered with the Rocky Mountain Horse Association and
Kentucky Mountain Saddle Horse Association.
the sire of "Lilly" the buckskin leopard spot is
>> DREA Celilos Tumalo
He was foaled 8/26/2012 - ApHA #676214
He is the sire of the leopard filly -
These girls have great dispositions!
below is Lilly,(white/spotted) she is available!
Wanabe Picasso -- sire ~ KL Talon -- dam ~ Martha -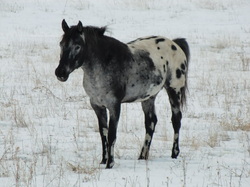 Available for Breeding
Registered Half Arab
Sire ~ KL Talon - AHA # - 0517389
dam ~ Martha - Nez Perce Appaloosa
foaled - 4-16-2001
15 hands
KL Talon is a Padrons Mahogany son -
Picasso loads, hauls, packs and camps like a champ-
He is gentle and hard working and passes that on to his kids.


---
DREA Okanagan Bluefire -

​Bluefire is available for breeding in 2017-
Wanabe Ducati - Picasso's 2011 son - not available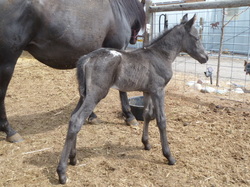 This is one fast and fun boy!
registration # - HAHR*2A373052
photo to the left taken at 24 hours old-




sire ~ Wanabe Picasso - AHA # 1A 342421
dam~AEC Faiza Matarra - AHA #0589250
Faiza is Babson bred - foaled 05/23/1996 - black - 15 hands -
below - photo of Faiza -






---
AEC Faiza Matarra -

Wanabe Ducati -

below - pics from when he was a little kid to up to 2 years old of age - bottom pics taken September, 2013 -

Wanabe Zanella - foaled August 7, 2012 - Sire - Wanabe Picasso Dam - AEC Faiza Matarra
has found her new home!
pics are of "Nellie" at 1 year old - oh, and that is dirt on the left side of her back!

Below are photos of present & previous endurance/trail horses I have had the honor & joy of hanging out with… hover over photo to read caption -
AERC # - M17930 -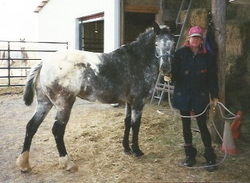 My "Martha"… A descendant of the great Nez Pierce horses that survived
She is the dam of Wanabe Lois and Wanabe Picasso
What a fun, sweet and trustworthy friend!
Once on a Elk hunting trip, she got her legs all wrapped up in her picket line while grazing on a steep hill, so she just literally sat down and started "talking" to me… I heard the odd noises Martha made to catch my attention
and I rescued her. After that, she was never tied again on a camp trip!
photo taken around the end of 1990's


---
In memory of - "Ezera Little Feat" - photo taken in 1978 near Colbran Colorado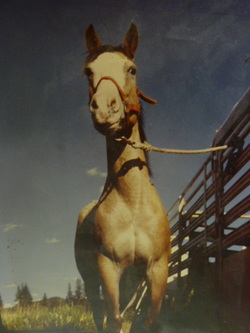 This tough and hard working Appaloosa mare took care of me on my first endurance rides and was the best pack horse ever.... I hauled this girl in the back of a 1955 GMC one ton dually flatbed with stake sides truck -and that would be over Rabbit Ears Pass near Steamboat Springs in blizzards in the dark…that truck had vacuum wipers. The slower you drove the slower the wipers worked, if they worked at all - and I couldn't see a damn thing! That was before I got a newer (4 x 4) truck and trailer! I think Ezera found the covered trailer was more pleasant in those tunnels, she would lay down in the flatbed when going through them! (kids, we just didn't know any better!)

---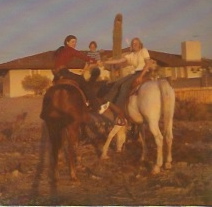 That's me on the white Arabian - 1972 -
we exercised horses after high school at the old Biltmore Stables/Race Track/Hotel in Phoenix Arizona.
---
~~AND here is the beautiful painting by Karen Brenner .... ~~~~~~~~~~~~~~~~~~~~