WELCOME to WANABE RANCH !
Located on the West Slope of Colorado

Home of Endurance/Trail Horses ~ Foundation Appaloosas ~ Queensland Heelers/ACD's
Kelpies and "Texas Heelers"
I have bred horses and dogs since the 1970's. Some of the most brilliant dogs and enduring horses are "Mutts" and Mustangs - which can mean they are of unknown heritage - so why not cross proven stock and then have offspring that will have predictable traits.
So... the Aussies and Heelers that I raise are pure bred but not papered, they are super dogs - the Aussie/Heeler cross-bred pups are the kind of dog that will give you that unconditional loyal love that will be remembered forever.

The past horses that I have bred are an Arabian Appaloosa cross that are calm, willing and tough as nails. My other favorite breed is the historic and intriguing foundation bred Appaloosa

I am proud to announce, that some nice foals are available in 2017 - Check them out on the "horses and foals available" page



There are adult dogs available for adoption
Heelers and Australian Shepherds
these are beautiful retired dogs that are great companions.
We are now using AT&T - and their service is so much better than Verizon… The phone now works!!!
YeeeHaaww!! (it's the little things in life)

~ 720-272-5255 ~

To send an Email-
you can use the
e-mail form which is at the bottom this page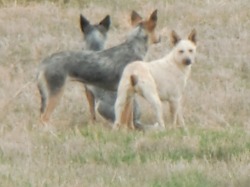 photo above of Snap, Wanabe Kayla - Blue Heelers- who both will always be loved and missed and... the brilliant Sara Lee, the red speckled Queensland Heeler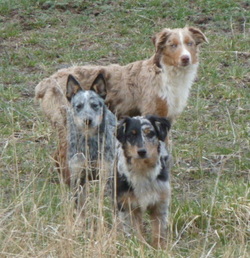 Wanabe Ranch is proud of our kids… to save the great old bloodlines to keep the love...
Wanabe Jazzi (Redman) - Australian Shepherd -
Wanabe Cora - Blue Heeler
Wanabe Jenna - Australian Shepherd
---
- Fly Ball - Red Heelers can do it all !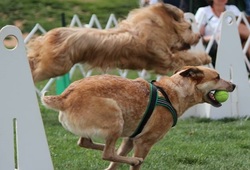 Dex
"the famous flyball dingo"
(Spirit Heelers/Bruce Bairds lines)
with ball in mouth racing for the finish!


---
GREETINGS ! We are located about 7 miles west of scenic Hiway 65 ~ which goes over the Grand Mesa, thru Cedaredge, on the West Slope of Colorado.
Camping is available, with a round corral for several horses and room for a horse trailer. There is also a cozy cabin for over night stays and will soon have a vintage camper and camp site available for those who would like to "ruff" it! The altitude is about 6,500 ft at the ranch, so it is a bit cooler here in the summer. There are nearby trails and other fun activities for all.


Wanabe Ranch
20243 Brimstone Road
Cedaredge, Colorado 81413

phone- 720-272-5255
e-mail
wanaberanch@gmail.com
(contact form is at bottom of page)



~~~~~

Life is short... so just do it !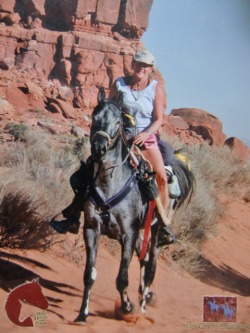 Wanabe Picasso -on an endurance ride near Moab, Utah - Picasso is available for breeding. His offspring have wonderful dispositions. His registration number is # 1A 342421 - Half Arabian Registry
Sire - KL Talon(Arab) -- dam - Martha - out of the original Nez Perce Appaloosa bloodlines.
---
below are some Wanabe Ranch pups and ponies. Some of these beautiful photos were sent from the puppies new owners!
Some of the pics have captions, just hover over photo.

KELPIES ! Fiona - Tumblur - Pilar - NAAKR - pups will be in the future…
~~~~~~~~~~~~~~~~

Thank You for Visiting ! - Shirley Grothe - owned by Wanabe Ranch...
May your horse trot out sound and strong, your dogs keep your feet warm at night - AND - wishing you good health and Peace…
~~~~~~~~~~~~~~~~~~~~~~~~~~~~~~
where there's love there's life
> Mahatma Gandhi <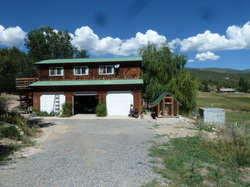 When you come to visit, this where the pups and dogs are...
It's just to the right of the main farm house ~

Thanks!
---